Teaching
University of Wisconsin - Madison Percussion Program


Faculty

Dr. Anthony Di Sanza
Percussion Program Director
---
Percussion Program Details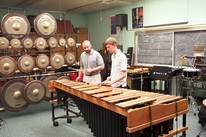 The University of Wisconsin-Madison percussion program is broad based, including studies in Western solo, chamber and orchestral idioms, jazz performance on drum set and vibraphone, as well as study of selected non-Western percussive traditions. The program supports two percussion ensembles and the affiliated professional percussion group Clocks in Motion.

All students study directly with faculty and have myriad opportunities to participate in guest artist masterclasses. Percussion lesson curricula are individually designed for each student, creating a personalized education that emphasizes broad based skills while allowing each student the creative room to pursue areas of personal interest. The UW Percussion Program strives to provide a diverse, challenging and supportive educational environment.

For information regarding specific degrees, audition information, faculty biographies etc. please visit the UW-Madison School of Music website at the address listed below. Feel free to contact the School of Music admissions offices or the percussion faculty for further assistance.

---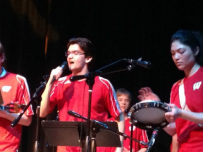 The UW-Madison percussion studio is generally comprised of 9-11 undergraduate and 4-5 graduate students. Great care is given to maintaining a balanced and selective studio affording each student extensive and diverse performance opportunities. All of the undergraduate and masters students perform in one of the large ensembles (orchestras and/or bands) and also have opportunities to perform in the jazz program and with the Contemporary Chamber Ensemble and with other myriad chamber groups.


---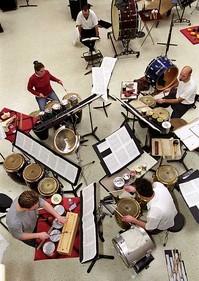 The University of Wisconsin-Madison has two active percussion chamber ensembles that rehearse and perform regularly. The Western Percussion Ensemble is a chamber group dedicated to the performance of significant and interesting works for the Western percussion ensemble. Repertoire from diverse trends in 20th and 21st century chamber composition is explored with an emphasis on new compositions for percussion. Guest artists regularly perform with the ensemble and guest composers are often featured. The UW World Percussion Ensemble is dedicated to the performance of significant percussive styles from around the globe. Percussion traditions from various cultures, including Cuba, Brazil, India and the Middle East are explored through performance and cultural research. In 2010 the ensemble won the Percussive Arts Society International World Percussion Ensemble Competition, resulting in a feature performance at the Percussive Arts Society International Convention.


---

Clocks in Motion
(Affiliated Professional Percussion Ensemble)
Hailed as "nothing short of remarkable" by Cleveland Classical, Clocks in Motion is a group that performs new music, builds many of its own instruments, and breaks down the boundaries of the traditional concert program. Formed in 2011, Clocks in Motion began as an extension of the University of Wisconsin
-Madison's Graduate Percussion Group, and now serves as an affiliate ensemble with the University of Wisconsin-Madison School of Music. Among its many recent engagements, the group served as resident performers and educators at the Interlochen Arts Academy, Rhapsody Arts Center, University of Michigan, Baldwin-Wallace University, and the Madison Museum of Contemporary Art.
Visit
http://clocksinmotionpercussion.com
for more information.
---